As things slowly make their way back to normal, the health and safety of our guests and team members remains our top priority. We request that all guests observe the State Travel Guidance and Federal Travel Advisories in advance of staying at The Hotel Concord to ensure all feel confident and comfortable staying with us.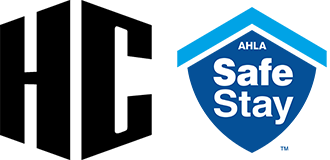 In addition to the extra attention to detail our housekeeping staff regularly places in the preparation of your room and the cleaning of our common areas, The Hotel Concord is a member of the the American Hotel & Lodging Association's Safe Stay program, an industry-wide initiative to enhance the cleanliness of our spaces. Additional measures we're taking include:
All guest room hard surfaces, door handles, faucets, phones, and remotes are wiped with disinfecting wipes between guests.
All common area high-touch surfaces (elevator buttons, handrails, etc.) are sprayed regularly with disinfectant.