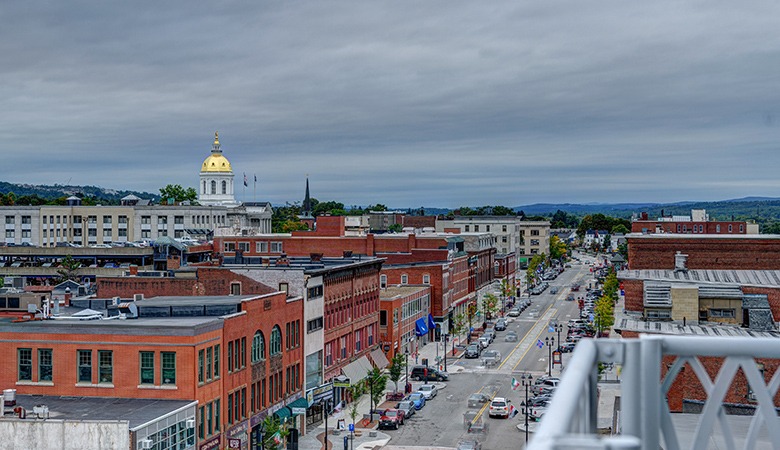 Things to do
Concord is the capital of New Hampshire and has become the state's cultural capital as well. There is so much to do in and around this vibrant city.
The Hotel Concord is set in the middle of a bustling Main Street full of arts, culture, local shopping, great eateries and history just one hour north of Boston. Almost every store and dining spot along Main Street is locally-owned and operated, the variety is unique.
The
League of NH Craftsmen
offers art classes, workshops, events, exhibits, and fine crafts for sale at its two galleries just a block away. Concord is also home to master jewelers such as
Capitol Craftsman Romance Jewelers
that sell the work of talented artists.
Kimball Jenkins School of Art
is home to two exhibition spaces and hosts artwork exhibitions, as well as group and solo shows. The school also offers classes and workshops for adults, teens and children.
Concord is home to several performing arts center venues. Attend a concert, dance performance or show at the
Capitol Center for the Arts
, offering big productions a couple of blocks from The Hotel Concord. The
Concord City Auditorium ("The Audi")
also has a variety of productions, including concerts and plays. The
Hatbox Theatre
entertains intimate sized-audiences with improv, magic, poetry, original plays and more. The Bank of NH Stage, an extension of the Capitol Center of the Arts right across the street from The Hotel Concord, focuses on niche, indie and up-and-coming performing artists.
While in town, catch a movie at Concord's very own art house cinema,
Red River Theatres
, in the same building as The Hotel Concord. In addition to featuring independent films and hosting various film festivals, Red River Theatres has costume parties and film-themed events and The Indie Café offers locally sourced wine, beer, sandwiches, and candy.
Concord is home to so many talented musicians and live music can be found all around the town. The nationally awarded
Concord Community Music School
hosts more than 200 public concerts each year including jazz, folk and classical performances, and its famed annual two-day Mandolin Festival draws audiences from all over.
Looking for something unique and vintage? Several fun shops are found in the downtown core. Lilise Designer Resale has affordable vintage and luxury consignment from Gap to Chanel - and just about everything in between. ReChic is a newest secondhand fashion addition to the downtown carrying women and children's clothing, fine accessories and more.
In Concord, you can also experience New Hampshire politics firsthand. Every four years this city becomes an epicenter of American political activity as presidential candidates flock to the Granite State to win the hearts and minds of voters for the first presidential primary in the nation. You can't win the oval office without winning Concord and rubbing elbows with the people. During the winter months, it is common to run into national politicians at cafes and restaurants as they make stops on the road to the White House.
Granite State Candy Shoppe
and
The Barley House
are must visit locations.
The
New Hampshire State House
is clearly seen from The Hotel Concord and was built between 1816 and 1819 under the watchful eye of architect Stuart Park. The iconic Greek Revival building is made of local granite and is open to the public Monday through Friday for free tours, and on some weekends into the summer and fall. Next door, the
New Hampshire Historical Society
library has expositions and events.
What's Nearby/Things To Do: